Illiopolis Business Association Members Page
Village of Illiopolis Proclamation
Letter of Thanks from Mike Francis
Businessman of the Year 1999 page.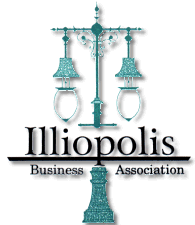 Business Man of the Year 2000 Biography
J. Michael Francis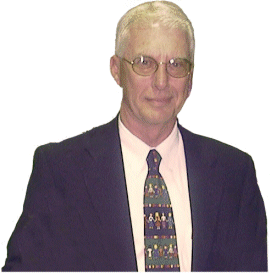 The following biography appeared in the June 8, 2000 Illiopolis Sentinel
James Michael Francis was born and raised in Peoria, Illinois. His father, who worked at Caterpillar for 41 years, encouraged all of his children to find what they really wanted to do with their lives, and to "not quit when the whistle blows."
After graduating from Woodruff High School, he began the search for his life's work. First, he headed off to college on a baseball scholarship. All that he enjoyed about that was the baseball, so he returned home. Next, he attended the American Academy of Art in Chicago for a year and a half. Once again, he returned to Peoria, still in search of what to do.
For the next seven and a half years, he worked nights at Caterpillar. During that time, he and Jo Ann were married and he took classes at Bradley University. When he graduated, he gave up his very good paying factory job and prepared to move his family to Alaska for his first teaching job.
Before they left, while visiting in Riverton, he was told of an opening at Tri-City school. So, instead of heading off to the great state of Alaska, he began his teaching career at Tri-City teaching junior high math and then art. During the five years he taught there, he also coached three sports, helped out at the nearby boys farm and earned a master's degree at UIS.
He then accepted the position of Illiopolis Jr. High and High School Principal, with the plan of staying only three years. The Illiopolis district was in the midst of change with both the enrollment and the budget declining. He recalls spending many evenings with Ron Kitchen trying to crunch numbers and schedule classes with fewer teachers and a smaller budget. He also remembers Jackie coming in to send him home when it got very late. He says he grew to have a great deal of respect and admiration, both personally and professionally, for his very good friend Ron Kitchen. He and Ron both felt strongly that every child that entered the school deserved the same care, attention and support.
After settling into this new job, he and Jo Ann made the decision to move to Illiopolis. He says there are more advantages than disadvantages to living where he works. Some of his decisions, have not been received well, but usually, the community has treated him as a neighbor and worked passed their differences. He feels by living in Illiopolis, he has been able to "feel the pulse" of the community which has made it easier to work with the children and their parents to handle the current issues in their lives. For the last 16 years, he has handled the responsibilities of being both a Principal and the District Superintendent. He says the last few years have been such an exciting time for the school district because of adding all the new technology and the Pre-K program, rebuilding the band program and improving the existing extra-curricular programs while beginning new ones. He has always felt that from 8:00 to 3:00 are the students' most important school hours, but the extra-curricular activities are also very important. Those activities help kids learn about themselves and about belonging. He adds that he feels the future looks real bright for Illiopolis Schools.
When asked about his decision to retire he said he feels it is time to begin another chapter in his life. He plans to spend more time with his family. He and JoAnn are the parents of three daughters; Debbie, Jamie and Bobbie. They have two grandchildren, Nikki and Joey. He is also planning to do some hunting, fishing and photography and would like to spend some time volunteering to help developmentally disabled kids and their families. He feels there is always another adventure out there - all you have to do is look for it.
He says he feels very honored being named the Illiopolis Business Person of the Year. He adds that he has a great staff at the school who shares his excitement for the future and has made his job easier.