Illiopolis Business Association Members Page
Letter of Thanks from Mike Francis
Businessman of the Year 1999 page.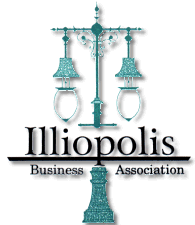 ILLIOPOLIS – The Original Geographical Center of Illinois
Village of
Illiopolis
ILLIOPOLIS, ILLINOIS 62539
Proclamation
Whereas. James Michael Francis has spent 32 years of his life as a teacher, coach and
administrator, dedicating himself first and foremost. to the children placed in his care.
Illiopolis Is most fortunate that 25 of those years have been With C.U.D. #12.
Mike and his wife JoAnn raised their three daughters in Illiopolis, Jamie,
Bobbie Jo and Debbie.
Whereas. Make Francis has cared for our children and has always been concerned about
the welfare of our schools. He has served his community well in many ways and should
be considered an outstanding citizen.
Now, therefore, I, Allen D Brickey, Jr., Mayor of the Village of Illiopolis by the authority
of said office, do hereby proclaim Sunday June 4 through Saturday June10. 2000
MIKE FRANCIS WEEK
In the Village, and do hereby encourage oh citizens of the Village to join me In honoring
Mike Francis and to thank him for his caring and service to our children and community.
In Witness whereof I have set my/said and caused the seal of the Village of Illiopolis to
be affixed this 4th day of June, 2000.
Allen D. Brickey, Jr., Mayor
Of Illiopolis