Return to State Center Record History Index

Illiopolis Business Association

Local History
Taken from a 1901 Supplement to The (Illiopolis) State Center Record
C. B. SUTHERLAND General Merchandise.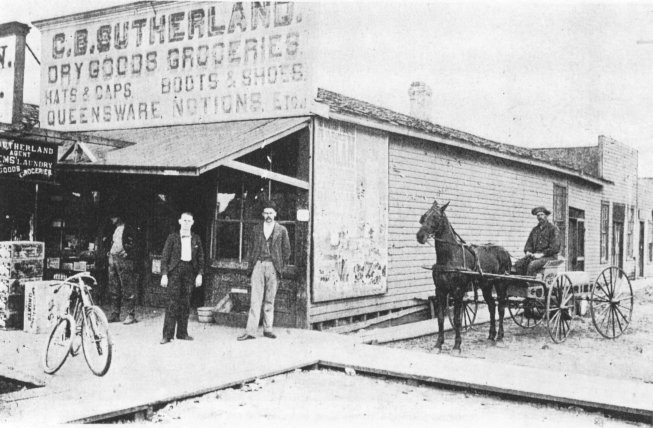 Sutherland General Store on present site of Prairie State Bank. C. B. and Arthur Sutherland in front. (Photo from 1956 Centennial Book)
People, as a rule, show marked preference for one or another place to do their trading, and this preference, when it is continuous, is the outgrowth of satisfaction experienced. which, in turn, is based on courteous treatment, prompt service, and honest methods. Judged by this standard the establishment conducted by Mr. C. B. Sutherland, responds to every requirement and is secure in the possession of popular favor and recognition. The several stocks comprise the marketís best productions in groceries, boots and shoes, dry goods, bats and caps, notions and furnishing goods, and these are offered at figures which in all cases are honest equivalents. The result is a well established trade, made up of the best people in town and country. The owner of this enterprise, Mr. C. B. Sutherland, was born, brought up and educated in Illiopolis township and is, therefore, well known throughout this vicinity. For several years after finishing his education he was employed as clerk in a local establishment, where he gained a thorough knowledge of business methods, of market values, and acquired an experience which equipped him for mercantile life. Desirous of conducting a business of his own he wisely awaited the opportunity. which in 1888 placed him in possession of the present enterprise. During his residence in Illiopolis, Mr. Sutherlandís relations with its people and those of the vicinity have won for him their confidence, esteem and regard. This disposition has been made manifest in his election to the Town Board or two terms, during which time he presided over the deliberations of that body. During his incumbency the present laws and ordinances governing the administration of local affairs, were adopted and enforced. His selection to positions of honor and trust such as being Secretary for the Masonic fraternity, trustee of the Knights of Pythias, and as member of the Chapter of the R. A. M., all of which positions and privileges he now enjoys, are marked evidences of a approved personality. Mr. Sutherland is among Sangamon countyís young and enter≠prising business men and has earned his success by intelligent effort, judicious liberality and a happy faculty of making friends.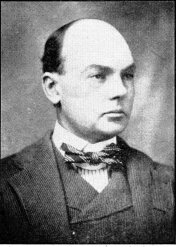 C. B. Sutherland