Return to State Center Record History Index

Illiopolis Business Association

Local History
Taken from a 1901 Supplement to The (Illiopolis) State Center Record
PHYSICIANS of Illiopolis
Do we ever stop to think of the trials and vicissitudes of the medical practitioner, or, are we content at appearances only and envy him, that which seems to many to be, an easy method of making a living. We forget his many years of college life spent in burning the midnight oil in quest of knowledge to make him proficient in his profession. We are unmindful of his days, and even years in some cases, when, as a young practitioner, he patiently awaits an opportunity to display his skill and knowledge, and win that reputation which, for him, is a bread winner. We lose sight of the endurance required, when, perhaps, after a sleepless vigil at the bedside of a patient the much needed rest is denied him by a ring of the door bell or a messenger, breathless and alarmed, pleading urgently for his services to alleviate the suffering of a loved one. We think seldom of that fidelity which prompts him to leave his warm bed at all hours of the night braving both the cold or the storm to reach by a drive over a rugged country road the victim of accident or sudden illness. We take little cognizance of that self denial which places duty first, even at the expense of the many domestic pleasures and comforts, which enter into the lives of all of us. And yet, such is the life of a physician, and such are these and like experiences repeated the world over. The physicians of Illiopolis in skill, knowledge, ability and experience are thoroughly representative of the medical profession, and give to the people of the community and surrounding country a quality of service noted for marked intelligence and unswerving fidelity. The result is manifested in large individual practices and reputations reaching in some cases beyond the limits of central Illinois.
J. W. D. MAYES, M. D.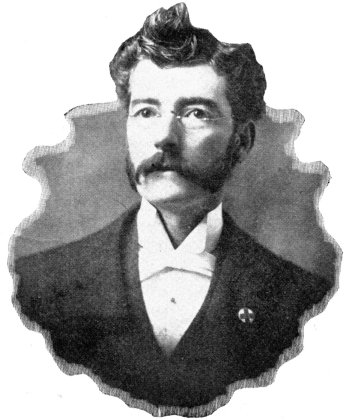 The successful man, no matter what be his vocation in life, is seldom the child of circumstance or sudden fortune; nor is a brilliant career due to chance or luck, for, on close analysis, it will be found that fame or reputation rests on inherent qualities such as, for instance, intelligence, discerning judgment, industry and ambition. This observation is but the natural conclusion drawn from the study of the lives of all men who have distinguished themselves and won reputation, and it holds equally true of the subject of the present sketch Dr. J. W. D. Mayes. Born in Mexico, Mo., Oct. 25th, 1852, our subject lived there until he reached the age of twelve years when, with his parents, he journeyed to the then wild west and settled in Oregon. While there his father died and, with his mother. he took up his residence in Salem, Oregon, where he pursued his education at the Willamette University. His elementary education completed. he came to Illiopolis and spent two years with his older brother Dr. D. J. Mayes, at that time a prominent and successful practitioner of this vicinity. His natural inclination for professional life became the stronger by association with his brother, which lasted two years, at the expiration of which time he entered the St. Louis Medical College and, in the fall and winter of 1872-73, attended a course of lectures which was supplemented, the following summer, by a course in the clinical department of the hospital. He then became identified with the drug business at Mechanicsburg and, in 1875 and 1876. completed his professional education at the Louisville Medical College from which institution he received his diploma. Dr. Mayes, then, began the practice of his profession at Illiopolis and remained these four years, when, threatened with failing health, he sought the climatic advantages of Washington Territory and resumed there the practice of medicine. It was while there that he was honored with an appointment from President Hayes as Post Surgeon, but was obliged, owing to the rapid growth of his practice, and for want of time to attend to its duties, properly, to resign the position. While a citizen of Goldendale, Dr. Mayes' capacity and influence as a leader was quickly discovered by its people who eagerly made him their local representative in council. At this time the power and influence he wielded against the liquor traffic resulted in its total extermination not only in Goldendale, but throughout the county as well. At the earnest solicitation of his brother, our subject. fully recovered in health, left the west for Vandalia, Mo., where he became engaged in the banking business. This pursuit was in plain antagonism to his natural inclinations, so much so, that alter a time he gave it up and, coming back to Illiopolis, began the practice of his chosen profession. In the immense practice that Dr. Mayes enjoys, so great indeed that the services of an assistant and partner have become imperative, there is, at once demonstrated, a popular recognition which rests securely on pronounced skill and ability, marked fidelity, and on methods which are those of the strictest integrity and thoroughly conscientious. From his busy life, he snatches time to attend the meetings of the School Board, of which body he is the President; and gives to thee republican party, of which he is the local leader, the benefit of his advice and counsel in formulating policies and effecting organization. Dr. Mayes' loyalty as a citizen may be seen in his prominent identification with all local enterprises whether of a municipal or social nature; his public spirit is always in evidence in his support arid alignment with measures or enterprises calculated to develop or improve, and his home pride is demonstrated in his adding to Illiopolis a pleasing specimen of resident attractiveness. In his professional capacity Dr. Mayes' excellent reputation is well known and admitted throughout central Illinois, and it would be difficult, indeed, to define the limits of either his influence or popularity.
R. D. DUGAN, M, D.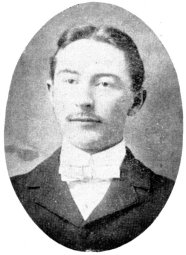 Whilst plain and simple justice demands that there he accorded to the old practitioner that knowledge and skill which result from long experience, still, in these days of unprecedented progress, when repeated discoveries in the sciences tend to completely revolutionize older methods, the young practitioner and later day graduates from celebrated institutions possess, in modern educational advantages, the qualifications which give marked preference to their services. To the latter class belongs Dr. R. D. Dugan, partner of Dr. J. W. D. Mayes, who moved to Illiopolis and began practice last October. Dr. Dugan is a native of Bethany, Ill., and is the son of Rev. J. Jay Dugan, a minister of the M. E. church, at Pleasant Plains, Ill. To an excellent home training were added three years of study in the public schools at Marshall. Ill., and four years at the High Schools at Greenfield, Ill. His general education completed, he took up the study of medicine and attended the Central College of Physicians and Surgeons at Indianapolis, where he remained two years as a student. He then entered the Missouri Medical College at St. Louis, Mo., arid was graduated in 1898. Dr. Dugan practiced temporarily at Philadelphia and Pleasant Plains, but become permanently settled on his moving to Illiopolis two months ago. Dr. Dugan possessed all the elements of a successful practitioner in knowledge and skill, to which must be added a cheerful temperament, affable demeanor, and marked prudence the result of calculation and deliberation in his methods. It will take some little time be fore Dr. Dugan becomes thoroughly acquainted, and when he does, his future, now so full of promise, will he doubly assured.
S. J. King, M. D.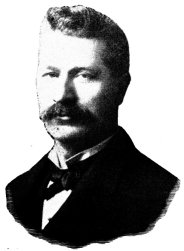 That laudable ambition, when supported and aided by industrious and persevering qualities, can combat successfully adverse conditions, and surmount obstacles the most difficult, is a fact which is forcibly called to mind when reviewing the lives and experiences of many, not a few, sometimes, being those with whom we are on terms of intimacy. Born in Macoupin Co. in 1860, the subject of the present sketch lived there until nine years of age when, with a party of Kansas settlers he journeyed into the west. He remained in that country until the age of thirteen, being employed at herding cattle, and at such other occupations as his youthful knowledge and strength would permit. He then returned to his native county and state and lost neither time nor opportunity to acquire an education. Such was his quick perception and apprehension that, at sixteen years of age, he passed the first grade examination and was re­warded with a school. For three succeeding years he taught successfully in Macoupin and Hancock counties, and at the· expiration of that time his frugality and industry had provided the necessary funds for a more liberal education. He, accordingly, went to Valparaiso, Ind., and at the institution there took up the study of the sciences and graduated in the class of 1880. Ambitions to follow the practice of Medicine, as a life pursuit, he directed his energies to that end and, becoming a student of the Chicago College of Physicians and Surgeons, was graduated in 1882. After a term at the Central University of Kentucky, which was devoted to scientific study and investigation, he entered the Louisville Hospital College of Medicine gaining whilst there a thorough knowledge, practical experience, and the benefits of the advice and wisdom of eminent practitioners. At this institution he remained two years receiving his certificate of graduation in 1885. His professional education practically completed, Dr. King, in order to regain failing health, spent the three following years in travel and recreation, and, in May 1888, on the suggestion and advice of the late lamented Gen. Palmer, finally settled at Illiopolis. During his twelve years of active practice in this section, Dr. King's skill and ability have established a career continuously successful. As a result he has acquired a competency which permits of his retirement from active practice at his pleasure. Though leading a busy life, Dr. King never neglected his scientific studies and investigations and, in 1897, was rewarded by a diploma from the Illinois School of Psychology. For the time being, Dr. King has resigned from the practice of his profession, and intends to spend the coming winter in the South. He has planned, unless something unforeseen transpires, to visit Europe in the spring, remaining for a period of time in Germany and France to attend the lectures of men of international fame, and for the further prosecution of his studies. Dr. King is a member of the Masons, K. of P., Woodmen, and Odd Fellows. He is also a member of the Illinois State, and Decatur Medical Societies, and keeps in direct touch, through the medium of standard treatises and periodical publications, with the recognized authorities of the medical profession.
J. C. Maxfield, M. D.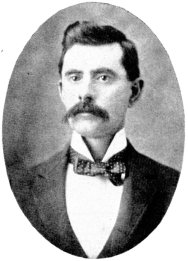 Although a resident of Illiopolis but a few brief months, Dr. J. C. Maxfield has lost no opportunity to gain and cultivate the acquaintance of the people, dispensing meanwhile, the benefits of his professional skill and knowledge. Dr. Maxfield is no novice in the medical profession, but comes equipped with a knowledge acquired during ten years of active and successful practice. Born and raised in Macoupin Co., his early years were spent at the neighboring school in quest of an elementary education, and at the rugged and healthful labors of the farm. Appreciating the inestimable benefits of an education he left the farm in 1882 and attended the Jacksonville Commercial College at Jacksonville, Ill. Gaining from this source a knowledge of business methods; only he still longed for a more liberal education and, to that end, visited Valparaiso, Ind., where he spent three years in a study of history, literature and the sciences, all of which are embraced in what is known as the teachers' course. His college life developed an ambition for a professional career which he had concluded to adopt and, accordingly, to provide the means for the required education he secured a school and, for four years, was employed successfully at Palmyra, Macoupin Co. Ill. He then began the study of medicine at the St. Louis College of Physicians and Surgeons and after three years of hard and persistent study was graduated with the class of 1890. He selected Barr, Macoupin Co., whereat to begin the practice of his profession and remained there for ten years or, up until the time he moved with his family to Illiopolis last September. In the country surrounding Barr, Dr. Maxfield built up an extensive practice which included the leading people of that section. Whilst there his pronounced skill and knowledge, his promptness and fidelity and his marked affability and integrity won for him an excellent reputation and standing throughout the community. Dr. Maxfield is a member of the Macoupin Co. Medical Society, and keeps thoroughly posted on advanced thought by the best minds in his profession through standard works and leading periodical productions.
Dr. Maxfield is a member of the K. of P. and Modern Woodman, and gives such time as his busy life will permit to the moral and material support and development of fraternal organizations.