Return to State Center Record History Index

Illiopolis Business Association

Local History
Taken from a 1901 Supplement to The (Illiopolis) State Center Record
H. M. BALDRIDGE, Tile
and Brick Manufacturer.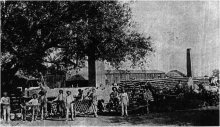 Photo from 1956 Centennial history (Click here for larger photo)
The enterprise owned and operated by Mr. H. M. Baldridge has for over twenty years responded. faithfully to popular requirements in brick and tile, always maintaining that standard of excellence which has established a reputation for reliability and satisfaction. This plant is located in the east end of town abutting the Wabash railroad and crosses the tracks from Ford & Metcalf's elevator. Mr. Baldridge possesses a first-class equipment in machinery and kilns and is ready to execute contracts for building brick. and tile in any quantity.
Tile is made in all sizes from four inches up to fourteen, and the building brick are solid, well finished and durable. Samples of this brick in building construction can be seen in the elegant Masonic Opera House, as well as several of the business blocks in Illiopolis. Mr. Baldridge is a native of Macon County, but grew up in Christian County. In 1877 with his brother, I. S. Baldridge, he established his present business which is among Sangamon County's successful industrial enterprises. He is an earnest adherent of benevolent and fraternal organizations, being a member of several of the leading local lodges and societies. He is among the representative citizens of the community and seconds help every measure, movement, or enterprise for local progress and development