Illiopolis Business Association Members Page
Return to Business Man of the Year Page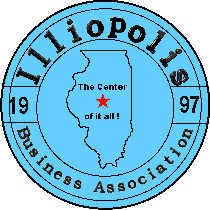 Business Man of the Year Award
(Millennium)
Frank J. Bell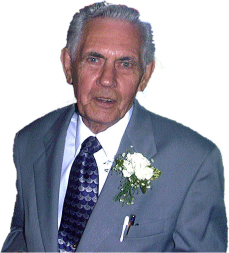 This is the first half of a biography written by Jennifer Johnson and Lacey Morgan of the Illiopolis High School journalism class. They volunteered to write these articles and met with him on several occasions to put together a two article series on Mr. Bell. The Illiopolis Business Association thanks them for the splendid job they did on these articles.
Frank Bell's mother came to the U.S. from France and his father was Lithuanian. His father was a coal miner, like most men of immigrant parentage. He died when Frank was 12 years old. He remembers going to dances with his parents at a young age. His parents had three children. A brother, Bob resides in Chatham and his sister, Leona, passed away about seven years ago. 1n his youth the Bell family resided in the south part of Springfield. He attended Feitshans High School in Springfield.
When Frank was 17 years of age he had a job at Western Union. He rode his bicycle all over town and ran the steps of the Capitol building and Centennial building many times to deliver telegrams to various state offices. He later left home to go to Chicago where he worked at various jobs. After the Japanese attacked Pearl Harbor he returned to Springfield and worked in a factory. After six months, he decided to sign up for the service. He enlisted in the U.S. Naval Reserves and after some special schooling was stationed aboard a Destroyer Escort doing convoy duty. These destroyer escorts would accompany oil tankers off the coast of Venezuela to Europe across the North Atlantic. A round trip would take approximately one month and Frank spent 1 1/2 years on convoy duty. He was a fire control man maintaining gun drives and gun directors and also steered the ship. During his 3 1/2 years in the Navy, Frank had training and liberty in cities such as Great Lakes, Chicago, Milwaukee, San Diego, Miami, New York, Aruba, Curacoa and Londonderry, Ireland.
He was honorably discharged from the Navy in January of 1946 and married Ina Mae Brawner in January of 1947. They moved to Chicago and their first son, Frank Jr. was born there. While there, Frank attended television school but after a year took a job in construction which included digging ditches and mixing cement in the Chicago area before leaving there to live in Riverton. While in Riverton, he took a job with the Wabash Railroad.
While living in Illiopolis, Frank and his wife Ina became parents of five more children. In addition to Frank Jr. they had Fern, Becky, Mary, John and Pam.
Frank has had a very exciting life and this is only the beginning! Next week we will feature an article about Sentinel, the history of the building, and what all Frank and his family have accomplished over the past fifty years.
Jennifer Johnson
Lacey Morgan
This is the Second article of the Series
The Illiopolis Business Association is honoring Mr. Frank Bell, owner of the Illiopolis Sentinel and Niantic­-Harristown County Line news­papers as "1999 Businessman of the Year." Frank has started his 50th year of operating the Illiopolis Sentinel and the Business Association will have a reception for Frank on Saturday, October 9 from 6:00 until 8:00 p.m. in Wabash Park. This is the second of two feature articles about Mr. Bell. When Frank was in his early 20's, he was working for the Wabash Railroad when his boss helped him get a job working at the Illiopolis Sentinel. The Sentinel, at that time was owned by Mr. John W. Bailey, who also had been a part-time schoolteacher. The building the Sentinel was located in was built in 1903 and was originally used as a dental office. It was purchased by Mr. Bailey in the early l920's and used for a print shop and for publishing the Illiopolis Sentinel.
Except for learning about printing in a high school course, Frank had very little training in printing. When he first started working for Mr. Bailey, he sorted pied type. At that time, the newspaper was printed with individual letters of type and the linotype. Frank had to sort and redistribute the type after the paper was printed. He also helped Mr. Bailey with other jobs around the shop.
Frank and his wife Ima later leased and then bought the newspaper and Mr. Bailey lived with the Bell family for about the first year.
The circulation of the newspaper in 1950 was about 400 subscribers. A one-year subscription cost $1.50, and postage cost Frank about $13.00 per month. The rule then was that all newspapers mailed within the county of publication were free. This was done to promote circulation of news events. Currently there are about 850 subscribers to the Sentinel and about 750 to the Niantic Newspaper. In Sangamon County, a one-year subscription costs $20 and postage costs Frank about $100 per week.
He has had part-time help from several members of the Wilson family, Paul Hohenstein, Donny Gordy, Jim Sheward, Jerry Royce, and Frank's wife, sons and daughters.
Daisy Marie Hines has been submitting a weekly column, "In and Around Illiopolis" for many years and Mildred Pfeifer submitted a number of columns about years ago in Illiopolis. Other than that, Frank has written all his own articles over the years.
When Dave and Milton Ross owned Ross' Grocery Store, uptown Illiopolis, they bought a full-page ad in the newspaper every week. Some weeks Frank would be handed prices on a torn meat wrapper to make into a full page ad.
When Frank started at the Sentinel, a method of printing called Linotype was used. Linotype was produced by typing the letters on a keyboard. These letters would be put into place to form a lead line to be printed from. The Linotype would make one line at a time. In those days, everything on the paper was "hand constructed".
Frank has seen many interesting articles, editorials, and ads over the years. He says he has to make some judgment calls on letters to the editor and advertisements. He doesn't take a stand on controversial issues. He simply reports the news.
Many times they have worked until 3:00 or 4:00 in the morning to make the 7:00 a.m. deadline at the Post Office on Thursday. He's done everything from sweep the floor to run the presses at the shop. His six kids have been a tremendous help. On Mondays and Tuesdays, Frank collects the news and then prints the paper on Wednesday night for distribution on Thursday. Friday is clean up day and the weekend (hopefully) is his time off.
Frank has been a member of Illiopolis American Legion Post 508 for 48 years and served as adjutant for several years and held the commander's post seven different years. He was also Illiopolis Township Clerk for 12 years and secretary of the Lions Club for about eight years.
Frank is now starting his 50th year and hopes eventually to have someone take his place. We would all like to thank Mr. Bell for all his hard work and encourage you all to stop by the Saturday night reception and congratulate Frank on his success.
Jennifer Johnson
Lacey Morgan