Illiopolis Business Association Members Page
Return to Business Man of the Year Page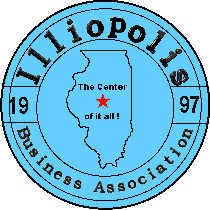 Business Man of the Year Award
Frank J. Bell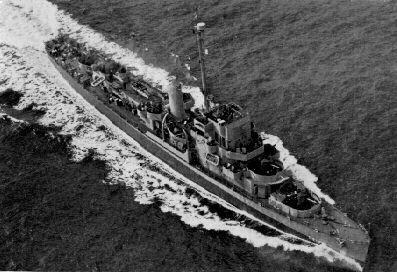 This is DE-675 USS Weber on which Frank Bell served during WW-2. For another picture of this ship and more information about it, click on this link.
The following letter to the editor (Frank Bell) was printed in the October 7th issue of the Illiopolis Sentinel. It was written by Retired Illiopolis School Teacher and Former Merchant Marine Officer Gene Hall. They both served their country in very important roles and deserve to be honored as heroes for the dangerous roles they served during the war.
Dear Frank,
Bless those students for writing, of your life. It is high time you publish about yourself. Last week's timely story got me remembering some things. Many times you have made space in the Sentinel for things that I wrote, usually in letters that I signed "Thanks Frank." I did appreciate your paper as a sounding board in which I expressed myself, and more so, when my views were disagreeable to some of your subscribers. Then as a long time hoard member at the public library I have often seen, and probably taken for granted, the public services you perform in printing whatever we need to publicize. You were there before the library crowded against you and a good and valuable neighbor you still remain.
Veterans may not say much about their wars but they don't forget them, so I was glad to read what Miss Johnson got out of you. Our lives paralleled somewhat in W.W. II. We each volunteered for sea service in the summer of '42 and both saw tens and tens of thousands of miles during the next three and a half years. I sailed on five cargo ships, which were often in convoys while you, Frank, were sailing a destroyer escort (DE boats we called them) and running interference for them--and out of Aruba I read.
I sailed out of Aruba once on a very old tanker loaded with aviation gasoline. Chugging along at ten knots we sure were glad to have those nimble little escorts out testing the waters. We knew that they had found a submarine to chase when we felt the concussions from the depth charges they were dropping. On rough seas when we were grabbing handrails we often wondered how guys on those little escort boats could stand the rides they were getting. In the North Atlantic one could drop out of sight into a trough and then bob up high on a big wave. Londonderry must have been a very welcome respite for those who got into it, but I recall the waters nearby for one of the noisiest nights I put in at sea. My convoy sailed by in the blackness with the only glimmer being a lighthouse on the Irish coast. Like some times I never knew what the explosions did really-- only that my ship was one of those that made it around to England along with some escorts.
At a Merchant Marine convention where sea stories were flowing one old guy remarked, You know those Navy and Coast Guard escorts did a good job of covering our butts". Since you are the only one I have ever known personally who sailed on them, I can offer only to you my appreciation for having done that, and all of the above, by simply saying again: Thanks Frank.
Gene Hall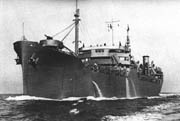 This is a picture of a the SS Mission Purisima a T-2 tanker, which was the work horse of the US Merchant Marine Tanker Force During World War 2. This is similar to the tankers that Gene Hall served on and Frank Bell helped to defend during the war. For more information about the Merchant Marine and World War freighters and tankers, visit this link.