Illiopolis Business Association Members Page
Return to Business Man of the Year 1999Page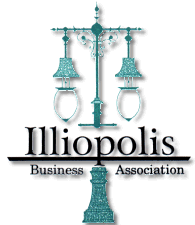 Business Man of the Year 1999 Award
Frank J. Bell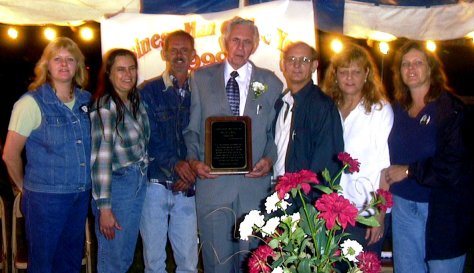 This is a picture taken at the ceremony of Frank and his children.
The following is a letter of thanks written by Frank Bell and published in the Oct 14 Illiopolis Sentinel.
A Note of Appreciation
I would like to express my thanks to the Illiopolis Business Association for the great honor of being named the First Illiopolis business Person of the Year. Thanks also for a second honor of being named Grand Marshall of the 1999 Illiopolis High School Homecoming Parade. These two honors are greatly appreciated and will be remembered always.
As if those two honors were not enough, the Business Association hosted a fantastic reception on Saturday, October 9, in the tent in the Illiopolis Park. About 100 friends, relatives and fellow business persons attended that great event complete with a beautifully decorated personal cake and other beautiful cakes, coffee, punch, etc. In spite of a rather dreary overcast day, all was bright and cheerful under the big tent in the park. Music was furnished by DJ Dyn-O-Mite.
I was also presented with a beautifully engraved plaque designating me as "Illiopolis Business Person of the year 1999. I am also honored to be the first listed on a large plaque to be placed on display with another name to be added each year.
Thanks also for the letters of congratulations from Congressman Ray LaHood and State Treasurer Judy-Barr Topinka, plus a proclamation from Illiopolis Mayor Al Brickey declaring October 9 and 10 as "Frank Bell Days in Illiopolis.
As I enter my 50th and last year of publishing the Illiopolis Sentinel/County Line newspapers, I want to thank all the loyal advertisers and those that have been so helpful with contributing news items over the years. Without the support of our advertisers, these publications would not have been possible. Thanks also to the reporters from the clubs, churches schools and various organizations for the items that all go together to make up the weekly news. Special thanks to our six children as they all took their turn at helping make up pages, folding, cleaning up the shop, etc. John works here full time and Frank Jr. has made at least two nightly trips a week from Decatur to come and operate the news press. He sure needs a plaque, too. All the kids have helped in various ways.
Again, I wish to express my heartfelt thanks for all these honors and thank all those responsible for that great reception and thank all those that came by to congratulate me.
Frank J. Bell